Third man charged over student's death in Liverpool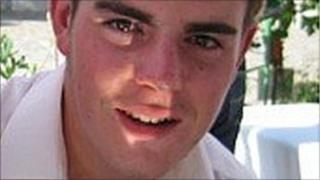 A third man has been charged after a 21-year-old student died when he was hit by a car in Liverpool city centre.
Andrew O'Neill, 20, from County Tyrone, died of multiple injuries after the incident in Dale Street on Saturday.
A 23-year-old man was charged with aggravated unauthorised taking of a motor vehicle with the aggravating feature of causing a death.
Two other men, 19 and 20, were charged in connection with Mr O'Neill's death on Sunday.
The 19-year-old was charged with aggravated vehicle theft and the 20-year-old with allowing himself to be carried in a stolen vehicle.
A fourth man, 21, remains under arrest in hospital, where he is being treated for leg and wrist injuries.
Mr O'Neill, who was from Clonoe just outside Coalisland, was a second-year student at Liverpool John Moores University.