Students climb university bridge in Liverpool protests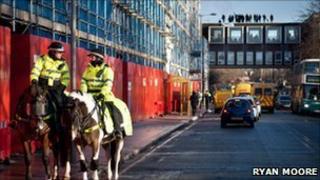 Students have marched across Liverpool to show their anger at a planned rise in university tuition fees.
One group of protesters climbed on the roof of an out-of-use footbridge across Oxford Street on the University of Liverpool site, another cluster clashed with mounted police in Leece Street.
No-one was injured and two arrests have been made.
The demonstrations followed last week's national protests when students and school pupils walked out of lessons.
Police said they attended Mountford Hall at about 1130 GMT and oversaw the peaceful protest.
Following the main protest, some demonstrators dispersed and formed two smaller groups that held additional impromptu protests.
Assistant Chief Constable Andy Ward said: "We are always keen to facilitate peaceful protest.
'Unnecessary disruption'
"The actions of those involved into today's impromptu march and rooftop protest have caused minor but unnecessary disruption to the city centre.
"Unlike last week's protest organisers failed to make contact with officers to discuss their plans and any intended routes.
"Despite repeated attempts to engage with protest organisers both before and during the event they chose not to speak to officers to agree a safe route.
"This is disappointing particularly considering how well last week's protest went."
Elsewhere in England, about 1,000 students marched in Manchester city centre and 150 staged an occupation at the University of Nottingham.
Campaigners are opposing rising tuition fees, which could go up to £9,000 under government proposals. Many students say that would cause people to be saddled with debt.