St Helens woman who concealed four births is sentenced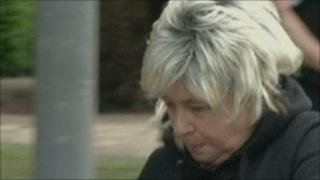 A woman who kept the bodies of three stillborn children in a bin in her wardrobe for up to 20 years has been sentenced to community service.
Bernadette Quirk, 55, formerly of St Helens, Merseyside, gave birth to four babies between 1985 and 1995.
Liverpool Crown Court heard that she wrapped three of the babies in rags and kept them in the small plastic bin, and buried another in a cemetery.
Quirk had admitted concealing the births, during a previous hearing.
She was given a two-year community order, subject to supervision, and ordered to take part in a women's intervention project.
The remains of the babies were discovered in July 2009 by Quirk's daughter, Joanne Lee, who contacted Merseyside Police.
Anya Horwood, prosecuting, said Quirk - who has three children - began drinking heavily and fell into a "chaotic and dysfunctional" lifestyle after her second marriage ended in the mid-1980s.
"She had a number of sexual relationships during this period," she said.
Quirk's barrister Ian Morris said: "She desperately wanted to hide the pregnancies to protect herself and her family from what she had done."
'Unhappy life'
"Half her life has been characterised by unhappiness, loss and suffering," he added.
"It may be considered cruel to jail this woman, given what she has suffered."
Judge Henry Globe QC told Quirk: "While the circumstances and reason for the stillborn births will never be established, your chaotic lifestyle of alcoholism and promiscuity were such as to put the good health of your unborn children at risk."
He said the fathers of the children, and Quirk's surviving children, had all been affected by her actions.
"You have had to suffer four stillborn children and had to live with the consequences of their deaths and the concealment which must have caused you much anxiety and distress."