MP's condolences over Knowsley Sonae factory deaths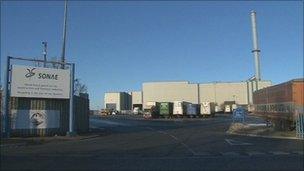 Condolences have been expressed in Parliament to the families of two men killed in a Merseyside factory.
The men, from Rossendale in Lancashire, were working at the Sonae site on Knowsley Industrial Estate, Kirkby, when they were fatally injured.
The site remained cordoned off on Wednesday for police and Health and Safety Executive (HSE) investigations.
George Howarth, Labour MP for Knowsley, asked the prime minister whether necessary action would be taken.
The factory, which makes chipboard, has faced four previous HSE investigations in the past 10 years, amassing £132,000 in fines.
Mr Howarth told the Commons that the two men were "tragically killed" at the factory on Tuesday.
"I'm sure the prime minister will join in me in expressing deepest condolences to the families of those who were killed," he said.
"And will he agree that when the health and safety and police investigations into what happened have been completed, whatever action is necessary will be taken."
Prime Minister David Cameron replied: "I certainly join the right honourable gentleman in what he says about his constituents and the dreadful accident that took place.
"It is important, we have procedures in place for the Health and Safety Executive and others to investigate these issues, and as he says they should follow the evidence wherever it leads."
The HSE has brought four previous cases against Sonae for incidents in April 2000, March 2001 and June 2002. The company was fined £15,000, £35,000 and £12,000 respectively.
In June 2002, a worker was injured in an explosion at the factory and the firm was later fined £70,000.
Fire crews and paramedics were called to the factory at about 1545 GMT on Tuesday. Despite their attempts to help them the pair both died at the scene.
Police said the victims, although not yet formally identified, were aged 25 and 27.
Both men were employed by sub-contractors Metso, which maintains and repairs machinery at the Sonae factory.
Family Liaison Officers from Merseyside Police are working with both families and the force is leading the investigation in conjunction with the HSE.
Det Insp Tom Keaton said: "At this point the scene is sealed and will remain so until we are satisfied that all relevant evidence has been gathered.
"Industrial operations at the site have been suspended and will remains so for now.
"We are in the early stages of what will be a very thorough and detailed investigation into the deaths of these two men, and my thoughts are with their families."
Related Internet Links
The BBC is not responsible for the content of external sites.