Chester fire-hit firms' Royal Mail demo over post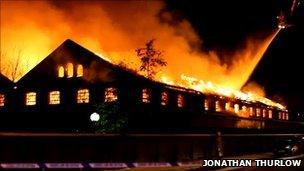 Business owners who lost their premises in a huge fire have been protesting outside a Royal Mail office in Chester.
They claim the delivery service has refused to give them at least five days worth of mail since the fire ripped through their premises at Chester Enterprise Centre.
Travel agent, Gaynor Davies, said she has spent 14 hours on the phone to Royal Mail trying to retrieve her post.
Royal Mail said it "sympathised" and advised them to call customer services.
Ms Davies is among 200 people who have been affected by the blaze.
Many have been stood outside the sorting office, just outside the city centre in Hoole, for several hours.
They say that Royal Mail has told them they must have a business address to deliver to.
Many, however, no longer have business premises, and are having to run their business from home.
Ms Davies, who owns Chester Travel Connection, said: "We are still up and running, but Royal Mail are not making things any easier for us.
"I have hundreds of plane tickets waiting for me in the post - I can re-order them but why should I need to when they are sitting there in the sorting office just metres away from my business?"
Helen Conway, who owns a yoga and pilates studio at the centre, said £30,000 of equipment went up in flames.
"I have more than 100 clients coming through my doors each week, at the same time as trying to find places to teach them I am having to continually contact Royal Mail to get try and get my post."
They say Royal Mail has told them they need identification to call and collect their post - however many of them have lost passports, bills, driving licences in the blaze.
Related Internet Links
The BBC is not responsible for the content of external sites.