Merseyside Police cuts present 'major challenges'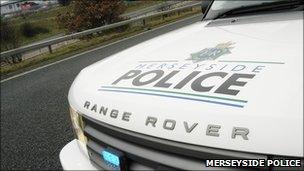 Cuts to the Merseyside Police budget went far deeper than expected and present "major policing challenges", a senior figure has warned.
Policing Minister Nick Herbert unveiled a 9% reduction in police funding over the next two financial years.
Merseyside Police Authority said the settlement meant it must now save £22m in 2011-12.
Savings already approved will lead to a loss of 200 police officers and 80 civilian posts by March 2011.
Chairman Councillor Bill Weightman said: "This settlement represents a huge blow to policing on Merseyside and exceeds the cuts we were expecting following the Comprehensive Spending Review (CSR) announcement in October.
"This puts Merseyside Police Authority in a difficult position, not only delivering cuts as planned, but struggling to protect the core business and frontline service we have fought so hard to improve.
"To date, the Police Authority has already approved over £4 million worth of in-year savings in 2010/11 and a further £12.88 million of cuts (4% of the annual budget) in preparation for this settlement period.
"In addition to this, Merseyside Police Authority has a timetable for considering further cost cutting options but clearly the savings required by this settlement will provide both the Chief Constable and the Authority with major policing challenges in the years ahead."
Related Internet Links
The BBC is not responsible for the content of external sites.