Two women die after contracting swine flu on Merseyside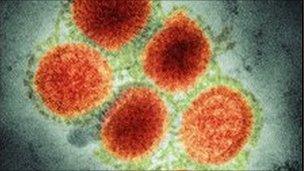 Two women on Merseyside have died after contracting swine flu, it has been confirmed.
Kay Burdett, 32, who also had underlying health problems, died at Royal Liverpool Hospital on Friday.
Another woman, aged 29, died in Whiston Hospital after catching the H1N1 virus.
Diane Wake, director of nursing at Royal Liverpool, said: "A small number of people with flu, particularly those with chronic ill health, can become seriously ill and die."
Underlying health conditions make people more at risk of becoming seriously ill with the disease.
These include people with heart disease, chronic asthma, diabetes or stroke sufferers.
People whose immunity to infection has been lowered as a result of illness, such as HIV infection, who are on some steroid medications or certain cancer treatments are also vulnerable.
They are being advised to get the flu jab - a vaccination which protects from swine flu and two other strains of flu.
Latest statistics show that only 28% of patients in north-west England with underlying health conditions have received the jab.
Ms Wake added: "Most people with flu recover completely without any need to see a doctor.
"We would ask that the people of Merseyside with flu-like symptoms do not come into our emergency department, visit patients or come in for routine appointments.
"We are happy to rearrange appointments. This will help protect our vulnerable patients.
"The emergency department gives the same medicines you can get from a pharmacist or a GP to those people who come in with flu-like symptoms."
Related Internet Links
The BBC is not responsible for the content of external sites.