Merseyside Pc 'took cash during Liverpool drugs raid'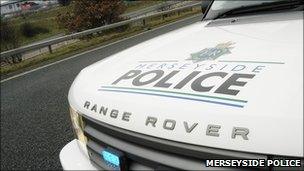 A Pc pocketed £2,000 cash but ignored other vital evidence during a drugs raid in Liverpool, a court heard.
Pc Anthony Davitt was caught with the cash after the operation, which had been orchestrated by his force's internal investigations branch.
Liverpool Crown Court heard that three ounces of white powder - hidden inside a Pringles tube - were ignored during the search, which Pc Davitt had led.
Davitt, of Whinmoor Road, West Derby, denies misconduct in a public office.
Mark Ainsworth, prosecuting, said the 38-year-old was ordered to lead the search of the home of a suspected drug dealer in Fazakerley, Liverpool, in September 2009.
It was the request of an undercover detective posing as a North Wales Police officer, he added. The suspect inside the house was also an undercover officer.
The court heard that hidden inside the kitchen was £2,000 and a further £1,000 in the living room.
As well as the white powder, they also hid a quantity of Mannitol, an additive which is often mixed into drugs, and a banknote scanning device.
"All those items were left in the house for Pc Davitt to find," Mr Ainsworth said.
"Had he been acting professionally, he would have recovered and retained them.
"He would have arrested the occupier and all those items would have been recorded on a search log.
"One would have expected him to report back to North Wales Police with the results of the search.
"But that is far from what he did."
Pc Davitt ordered his colleagues to search other rooms while he took the occupier aside and asked if there was anything in the house he should know about, the court heard.
The occupant - an undercover officer known as Mark - told the officer about the two bundles of cash, the white powder, the Manittol and scanner.
Mr Ainsworth said Pc Davitt went into the kitchen and took the cash, but did not record it in the search records.
"Pc Davitt put the £2,000 in his pocket. He then pretended to search the remainder of the kitchen."
The court was told that Pc Davitt ignored the other hidden items and reported back to senior officers that nothing had been found.
He left the house with his search team and drove away in a police van, which was later stopped by Merseyside Police's Professional Standards Unit.
Officers found the £2,000 in the pocket of his trousers. Pc Davitt refused to comment when interviewed by detectives, Mr Ainsworth added.
Pc Davitt is currently suspended from his post at Merseyside Police.
Related Internet Links
The BBC is not responsible for the content of external sites.