'Boiling water' robbery suspects named after TV appeal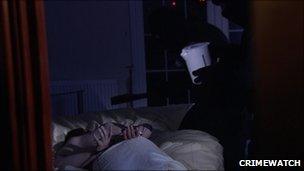 Detectives investigating two violent robberies in which victims had boiling water poured on them are following new leads after a BBC Crimewatch appeal.
Three masked men burst into a house in St Helens, Merseyside, on 4 November and tied up a couple in their 60s.
Police believe it could be linked to an earlier raid on a house in Warrington.
The public response to the television appeal was "extremely positive" and a number of potential suspects were named, Cheshire Police said.
Det Sgt David Hutcheon, who appeared on Tuesday night's programme, said: "The Crimewatch reconstruction was extremely effective.
"It clearly indicated the excessive violence used to threaten the victim in his own home, the ordeal he went through and the callous disregard of the offenders to anything other than material gain."
In the St Helens incident, Tommy and Marian Bradshaw were sitting in the living room at about 1900 GMT when their front door burst open.
Despite being given cash and jewellery, the raiders poured boiling water over Mr Bradshaw in a bid to get him to open a safe which did not exist.
In the Warrington incident, the victim was in the shower at his home in Houghton Green at about 2100 GMT when he was confronted by raiders wearing balaclavas.
After threatening him and his dog, pouring boiling water over him, the robbers tied him up and fled with cash.
Anyone with information is asked to contact Merseyside or Cheshire Police or Crimestoppers.
Related Internet Links
The BBC is not responsible for the content of external sites.