Convicted wife killer Eddie Gilfoyle freed from prison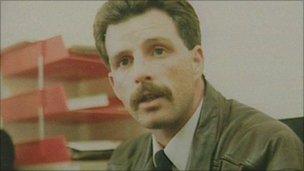 A man who has always maintained he was wrongly convicted of murdering his pregnant wife has been released from prison on parole.
Eddie Gilfoyle, 49, was found guilty of killing his wife Paula, who was found hanged in the garage of the couple's home in Upton, Wirral in 1992.
Prosecutors claimed he had fooled the 32-year-old into writing a suicide note before tying a noose around her neck.
The Parole Board said Gilfoyle was not allowed to speak to the media.
He was released from Sudbury Prison in Derbyshire on Wednesday with conditions attached to his licence.
Campaigners said both Gilfoyle and those around him had been banned from speaking out.
Paul Caddick, Gilfoyle's brother-in-law, said: "We are not able to provide a response because the Parole Board has imposed a condition on Eddie's life licence that prohibits him contacting the media, either directly or indirectly, whether this is regarding his release or his appeal."
Mrs Gilfoyle's family told the BBC they were "gobsmacked" by the decision to release him.
The Ministry of Justice said it did not comment on individual cases.
Gilfoyle, who has had two appeals against his conviction rejected, has always denied murder, insisting his wife took her own life.
During the trial in 1992, an expert testified that it was highly unlikely a heavily pregnant woman would hang herself.
The prosecution said Gilfoyle, a Falklands veteran, had persuaded his wife to climb a ladder in their garage with a noose around her neck.
The rope later went missing and was never tested for DNA.
During Gilfoyle's second appeal in 2000, his barrister Michael Mansfield told the judges crucial evidence in the case was destroyed or not kept.
It was one of the features that had "bedevilled" the case, he said.
However, the appeal court did not rule in Gilfoyle's favour.
Two years ago, Alison Halford, 67, who was assistant chief constable of Merseyside Police at the time, said there had been a "huge miscarriage of justice".
She said that in meeting Gilfoyle's family she "recognised a genuine belief that Gilfoyle was the victim of a huge miscarriage of justice".
Throughout his incarceration, various groups have campaigned for his release.
A Parole Board spokesman said: "The ban on speaking to the media is quite a common licence condition.
"A high-profile prisoner, on release, could speak to the media which could then lead to a situation where they could re-offend.
"They cannot speak to the media but a ban is not put on anyone connected to them."
Prisoners do not have to admit their guilt when they appear before a parole board to have a chance of release, the spokesman said.
"A prisoner can still be released and still not admit the charge," he explained.
"We always assume guilt after a conviction and instead assess whether they are safe to be let into the community and whether they pose a risk."
Related Internet Links
The BBC is not responsible for the content of external sites.