Gun crime Christmas card message to Knowsley mothers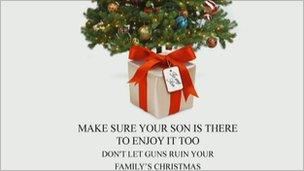 Christmas cards with a special warning about gun crime are being sent to mothers in Knowsley on Merseyside.
Police are hoping the festive message - "Don't let guns ruin your family Christmas - make sure your son is there to enjoy it too," will encourage women to show their loved ones "tough love".
They want mothers, wives and girlfriends to hand in their relatives if they are involved with firearms.
Det Supt Darren Martland, said: "Put a stop to it before it's too late."
Earlier this year 17-year-old Lewis O'Brien was shot in the heart by his friend in Longview, Huyton. Dean Eastham shot him by mistake after the pair were playing round with a revolver.
Mr Martland added: "There is a very real danger to all involved in gun crime and we urge the women in the lives of these men to help put a stop to it before it is too late.
"Not only could they end up serving very lengthy jail sentences but in reality they could be shot dead.
"These women need to show them tough love to ensure they don't end up either seriously maimed or dead and need to call us in confidence with any information they may have to ensure it is not the last Christmas they spend with their loved ones."
Related Internet Links
The BBC is not responsible for the content of external sites.