CCTV image released in Liverpool murder inquiry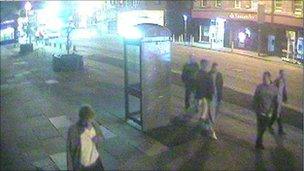 Police investigating the murder of a man in the back garden of his Liverpool home have released a CCTV image of young men they want to speak to.
Colin Hughes was stabbed to death in Old Swan on 21 September as he went to investigate a noise at the back door.
The CCTV shows a group of teenagers in Prescot Road, Old Swan between 1215 and 1230 BST - half-an-hour before Mr Hughes, 42, was stabbed in Baden Road.
Detectives say they are not suspects but may "hold vital information".
Det Ch Insp Phil McEwan, of Merseyside Police, said: "We would ask for these people, or for anyone who recognises these teenagers, to contact us so we can ask them some questions.
"They may have information which they think is insignificant but it could be crucial in forming part of a larger picture."
Officers have also released a photo of a car security lock that was found in the alleyway at the back of Baden Road on the night that Mr Hughes, a father-of-three, died.
The lock is around 2ft (0.6m) in length and has a sponge handle.
Mr McEwan said: "We would like to find the owner of this lock and would appeal to anyone who may have had it stolen in the run-up to Colin's death or who knows anything about it to contact us."
Mr Hughes' fiancee, Paula Greenwood, has also appealed for anyone with information to contact police.
"Colin used to really like Christmas and he has just been made a Grandad for the first time so he is missing out on so much," she said.
"Everybody knew Colin and loved him. He was born and bred in Old Swan. He went to school there, worked there, and went out there.
"He was kind-hearted and was always helping somebody out. I would like to know why somebody has done this to such a nice person?
"Somebody knows something and I ask that they contact the police so they can find who took our Colin away."
Anyone with information is asked to contact Merseyside Police.
Related Internet Links
The BBC is not responsible for the content of external sites.