Ringo Starr's former home not granted listed status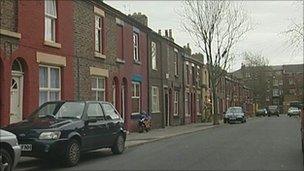 Campaigners trying to save the Liverpool house where Ringo Starr was born have dismissed a decision not to grant it listed status.
The Victorian Terrace in Madryn Street, Toxteth, is one of hundreds in the area due to be bulldozed in the new year.
Officials at English Heritage turned down a request for the house to be put under a preservation order.
The Save Madryn Street Campaign (SMS) said they would continue their fight to save the building from demolition.
A spokesperson for English Heritage said: "The decision not to recommend 9 Madryn Street, Ringo Starr's former home, was taken because the house has no associations with the success of The Beatles as a group, was only lived in by Ringo Starr for four years after his birth and is not architecturally or historically significant enough to match listing criteria."
Beatles tourism guide Phil Coppell, Chairman for the SMS campaign, said the decision showed the organisation's "intellectual ignorance".
He said: "Years ago we had to fight for years before they would agree to put a blue plaque on John Lennon's home in Menlove Avenue.
"Here again they have shown that they do not understand the reality of what is important to the ordinary people of Liverpool and to Beatles fans all over the world.
"We are not at all daunted by this and we will continue our fight to preserve Madryn Street for posterity."
He added: "No-one has ever suggested that Number Nine is of particularly great architectural importance.
"But what English Heritage have failed to understand is that it has enormous significance in terms of tourism and Beatles heritage in Liverpool."
The Abbey Road zebra crossing in north London, which was made famous after appearing on a Beatles album cover, was given Grade II listed status earlier this month.
The crossing - the first of its kind to be listed - was recognised for its "cultural and historical importance" following advice from English Heritage.
Related Internet Links
The BBC is not responsible for the content of external sites.