Rugby commentator Ray French appointed MBE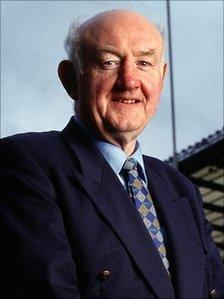 Rugby league commentator Ray French has been appointed MBE in the New Year Honours list.
The former schoolmaster, who joined BBC Radio Merseyside in 1982, has been honoured for services to sport.
He has also played both rugby union and rugby league, both for his local side St Helens and representing England at international level.
Speaking about his honour, Mr French, 71, said he felt rugby league had been rewarded.
"I have been somewhat embarrassed by it because normally I'm used to reporting on these things and interviewing people who have deserved such awards," he said.
"I feel it's an honour for the game itself, I feel rugby league has been rewarded.
"It's not been like work, it's a passion, I have thoroughly enjoyed it.
"I couldn't wait to get out and meet people or commentate, write about or play the game.
"It's just something in your blood that I've had since I was a kid and I will carry on. Hopefully there are more years to come."
Former Everton chairman David Marsh has also been appointed MBE for services to amateur golf.
The former Liverpool chairman Martyn Broughton has been appointed CBE for his work at British Airways.
Patricia Bacon, principal at St Helens College, becomes a Dame of the British Empire for her national work in further education.
Also in education, Pamela Wright, head teacher at Wade Deacon High School in Widnes, has been appointed OBE along with Joseph Byrne, head at the Royal Liverpool School for the Blind.
Foster parents Peter and Gaye Jones, from Bootle, have each been appointed MBE for services to families.
Howard Cooper, director of children's services in Wirral has been appointed CBE, and James O'Connor has been appointed MBE for services to the community in Warrington.