Sefton Council apologises for conditions on snowy roads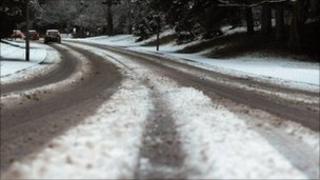 A Merseyside council has apologised to residents for the problems on its roads during December's heavy snowfall.
Many people in Sefton were stranded in their homes when streets iced over and became too dangerous to use.
Chief Executive Margaret Carney has apologised over the fact the lives of Sefton residents were affected.
"I wish to sincerely apologise that we didn't achieve better outcomes despite extensive gritting and the efforts of all staff concerned," she said.
"We will learn lessons which will include looking to invest in new equipment and mobilising staff more quickly to manually clear the snow, particularly in town centres," she added.
The area was one of the worst-hit parts of Merseyside in the pre-Christmas cold snap.
Temperatures fell as low as -17.6C in Crosby, which recorded the coldest temperature in the UK on 21 December.
The icy conditions led to all refuse and recycling collections being suspended in the borough.