Liverpool culture attracts record crowds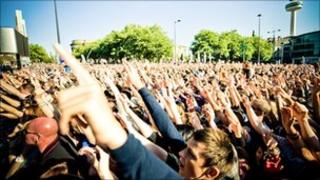 Visitor numbers to Liverpool's annual Matthew Street Music Festival (MSMF) rose last year bringing in a record £20m according to council figures.
The free summer festival set up 18 years ago attracted 320,000 people, compared to 300,000 in 2009.
The Labour-run council said that the event brought in £20m - £5m more than in 2009.
The council said that the city's cultural events increased their revenues despite the economic climate.
Figures revealed that each visitor spent an average of £57.25 during their stay - an increase of £4.25 on 2009.
'Money tight'
Africa Oye, the annual celebration of African culture, brought in £1.3m and doubled its visitor numbers in 2009 to 50,000, the council said.
Figures also revealed that the the council-funded On the Waterfront event attracted more than 65,000 people and brought in £1.2m
Liverpool City Council's cabinet member for culture and tourism, Wendy Simon, said: "These figures are fantastic and show that, despite the fact that money is tight, culture continues to play an important part in people's lives and if we can deliver events and festivals which inspire them, they will continue to come and spend money in the city.
"Many people thought there would be a post-08 slump, but we've shown that the city's economy continues to benefit by millions of pounds because of the high-calibre events which we put on throughout the year.
"Culture remains as important as ever and this is reflected in this year's impressive events programme which will not only see the city hosting the Liverpool Boat Show, but also the return of the much-loved Mersey River Festival."