Blaze at Ellesmere Port glass recycling plant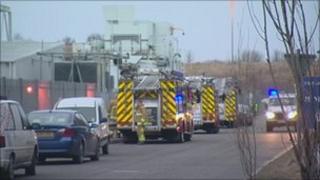 More than 75 firefighters have tackled a large blaze at a glass recycling plant in Cheshire.
The fire broke out at the Midland Glass Processing site on North Road in Ellesmere Port at about 1300 GMT.
Nearby buildings were evacuated and fire crews removed acetylene cylinders from the site.
Firefighters also stopped the flames spreading to two containers of diesel by using water jets.
The Environment Agency were called to the scene to deal with the run off from the jets.
Cheshire Fire and Rescue Service said the area was cordoned off while crews from Cheshire, Merseyside and north Wales tackled the fire.
The blaze had been brought under control at about 1600 GMT but firefighters remained at the scene to deal with small pockets of fire in the building.
North Road was closed to traffic to allow crews to access the scene.