Protesters march in Liverpool over public sector cuts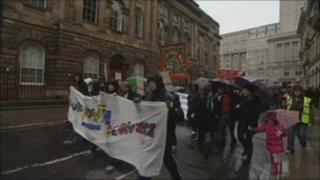 Protesters have demonstrated against public sector cuts at a rally in Liverpool.
About 700 demonstrators marched from Exchange Flags to the Anglican Cathedral, at 1130 GMT.
Former Labour MP Tony Benn and union officials addressed a 2,000-strong rally at the cathedral.
Mr Benn described the situation as worse than the Winter of Discontent from 1978 to 1979 but the government has said the deficit must be reduced.
Speaking to the BBC ahead of the rally, Mr Benn said: "This is worse than the 1970s. In that case it was really a case of people saving their jobs.
"Now it is much wider. Libraries are going, local authorities are having to cut other services.
"It is a really big assault on the standard of living for the people of Britain."
He said he feared a rise in unemployment as a result of the cuts would lead to a "double dip recession".
The church, hosting such a rally for the first time, said it did not have political bias but had a "biblical interest" in social justice.
The protest follows a march in the city last weekend which saw hundreds of people turn out to show their discontent over plans to cut 1,500 jobs at Liverpool City Council.