Campaigner abandons Royal Liverpool Hospital appeal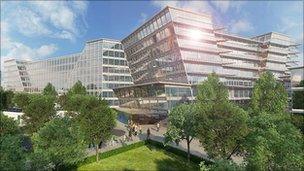 A legal challenge to Liverpool's new £450m hospital has been dropped.
Campaigner Sam Semoff has abandoned his fight to get a legal review of plans for the new Royal Liverpool Hospital.
His first application for a review was rejected. Mr Semoff, who said the use of the private finance initiative (PFI) would create big debts, dropped his appeal on legal advice.
Hospital Chief Executive Tony Bell said he was delighted that the legal challenge was over.
Mr Semoff, a member of the organisation Keep Our NHS Public, had alleged the new hospital would cost £1bn extra because it was being funded using PFI.
He called for a change in the way the project was financed.
"I call on trust directors to formally request the government to allow public finance for Liverpool's new hospital," he said.
Mr Bell said work on the hospital could now go ahead after being on hold since July 2010.
"We are sure that the people of Merseyside, who have given so much support to the new Royal, will be pleased to hear this news, particularly after such a long delay to the project," he added.
Related Internet Links
The BBC is not responsible for the content of external sites.