Liverpool Garden Festival Chinese pagodas are restored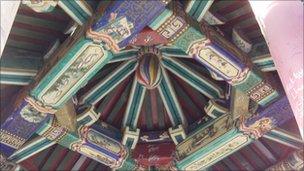 Two Chinese Pagodas which formed the centrepiece of Liverpool's Garden Festival site have been restored to their former glory.
The International Garden Festival ran for six months in 1984, attracting 3.8 million visitors.
Much of the site lay derelict for a quarter of a century, but it is now being redeveloped into housing and public gardens.
The pagodas have been rebuilt as part of a £3.7m restoration project.
Work started on the site in Otterspool in February 2010, after years of neglect and a protracted planning application process.
The project has been funded by the North West Development Agency which appointed national charity The Land Trust to transform the 36 hectare site into a waterfront park.
"We had a bit of a problem with the weather before Christmas, but now the work's developing really well," said Alan Carter of The Land Trust.
"We're doing this for the local community, for the people of Liverpool to have this as their own.
"It's a brand new modern park for them, but it will also be a brilliant destination for tourists to come to from around the world."
Both of the original 1984 pagodas had suffered the adverse effects of weather, and one had sunk into the ground.
Experts from around the world have been involved in their restoration.
A team of artists has restored the pagodas' painted beams, completing the painstaking task of recreating the original vivid colours.
The specialist team has previously worked on projects at Windsor Castle, Hampton Court Palace and the House of Lords.
A paint expert from the University of Shanghai was also consulted.
A new bridge and waterfall are being constructed, and work is under way to clear woodland trails, lakes and waterways.
Members of Liverpool's Chinese community were invited to see the work's progression as part of the Chinese New Year celebrations.
Colin Ling had not been on the site since 1984 and was impressed by the transformation.
"I spent many hours and days wandering through the festival in 1984 and most days since I've driven past the derelict site," he said.
"The Chinese year of the rabbit is about reflection and I think there will be nothing better to do than come and sit by the pagoda and just take time out of what for most is a hectic lifestyle."
With work on the pagodas almost completed, attention will soon turn to planting and landscaping the site.
New car parking and play areas will be provided, and footpaths will link the park with Otterspool promenade.
The gardens will reopen to the public this spring.
Related Internet Links
The BBC is not responsible for the content of external sites.