Jersey drug police 'illegally bugged' Curtis Warren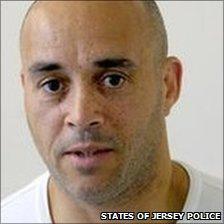 Police used a variety of "devilry" to secure evidence in pursuit of the conviction of Liverpool drugs baron Curtis Warren, the Privy Council heard.
Warren was convicted alongside five others of plotting to smuggle cannabis with a street value of £1m into Jersey, and was jailed for 13 years in 2009.
His appeal is being heard by the Privy Council's judicial committee.
Warren alleges abuse of process as police did not obtain permission to bug a car used in the plot.
The 47-year-old, who was at one time Europe's most wanted man, is serving his sentence in Belmarsh Prison.
The 2009 trial heard Jersey detectives were "reprehensible" and "unlawful" in bugging a car driven by Warren's right hand man, Jonathan Welsh, which was key to the conspiracy to smuggle the drugs.
The plot to smuggle the cannabis involved Welsh catching the ferry from Jersey to St Malo, France, before driving to Holland in a Citroen C1 through France and Belgium.
Those two countries refused to let Jersey officers plant an audio bug saying it was a breach of the European Convention on Human Rights.
Detectives planted the bug anyway - telling the French it was a tracking device.
Orlando Pownall QC, for Warren, said the officers had also previously been told by Jersey's Attorney General there should be no bugging.
He told the Privy Council, sitting at the Supreme Court, there had been an abuse of process through a variety of "devilry".
He added that the illegal bugging evidence was key in the conviction of Warren and his five co-accused.
"Were it not for that evidence, the appellants wouldn't be before the court," he said.
Mr Pownall said officers misrepresented the case to a pre-trial hearing to ensure their illegally obtained information could be used.
"There was no lawful authority for placing the device in the hired vehicle," he said.
Defending the case against Warren, David Farrer QC said it was not easy to see how the court' s integrity had been tainted.
Mr Farrer said Warren "would inevitably in Jersey be seen as a major threat to public order".
He added: "This was a large scale villain.
"There was a degree of urgency and the learned commissioner (in allowing the evidence) was entitled to have regard to it - not as the decisive fact, but as a factor."
Warren's money is said to be laundered through properties across the UK as well as hotels and nightclubs throughout Europe.
In 1997 he made the Sunday Times Rich List, referred to as a property developer worth £40m.
The hearing was adjourned until Thursday.
Related Internet Links
The BBC is not responsible for the content of external sites.