Merseyside Police cuts discussed at public meeting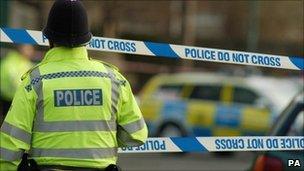 Cuts to police funding on Merseyside will be debated at a public meeting later.
Merseyside Police said it had to save £66m over the four years, following the government's spending review.
Police Federation figures suggest 200 officers will be lost per year and sections dealing with public order, domestic violence and dogs are at risk.
Luciana Berger, MP for Liverpool Wavertree, has organised the meeting at The Devonshire Hotel on Edge Lane.
The Labour MP has already conducted a survey on more than 30,000 households in her constituency on the future of policing.
She said the results showed many of her constituents supported the work of Merseyside Police and were concerned that government cuts would damage their safety.
The meeting will be attended by representatives of the police and Vernon Coaker, Labour's Shadow Minister for Policing.
Ms Berger said: "This isn't politicians complaining, this is real people - residents in Liverpool - who are worried about their safety.
"We are expected to lose over 700 police officers across Merseyside in the next few years and as a result 77% of those who responded are rightly concerned about the policing of our neighbourhoods.
"It's time the government listened to what real people are saying, about their fears, concerns and aspirations for the future."
Merseyside Police has already put in place a recruitment freeze in a bid to cut costs.
Merseyside Police Authority has also proposed cutting CCTV operations, and reducing training for staff and officers who deal with informants, in a move which it says would save about £4.2m a year.
Policing and Criminal Justice Minister Nick Herbert said police must help the government tackle the budget deficit.
He said: "The government's priority is to deal with the budget deficit and the police must bear a fair share of the burden.
"As the independent Inspectorate of Constabulary says, and all parties agree, forces can and must make savings in their back and middle offices.
"By sharing services, outsourcing and procuring equipment together, they can work more efficiently and prioritise the frontline, so that the service to the public is maintained and improved."
He added: "We are cutting bureaucracy so that so that the police can be crime fighters, not form writers."
Related Internet Links
The BBC is not responsible for the content of external sites.