Chester Zoo's oldest Asian elephant dies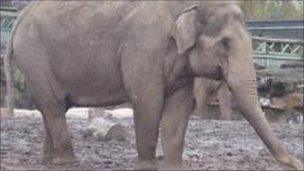 An Asian elephant which had lived at a Cheshire zoo for 46 years has died.
Chester Zoo said Sheba, who was the zoo's oldest elephant, had been ill for a short time and despite the best efforts of staff died on Wednesday.
Chester Zoo is home to eight Asian elephants: Maya, Jangoli, Sundara, Thi, Upali, Sithami, Nayan and a female calf, born at the end of January.
Dr Mark Pilgrim, zoo director general, said the death of the matriarch of the herd was a "huge loss".
He said: "Sheba had a long and happy life with us; she had a strong personality - intelligent and sometimes stubborn - and she thought the elephant section belonged just to her.
"She was a good elephant with a will of her own. Sheba had a way with the other elephants too and was able to keep the others in line.
"I have no doubt the elephants will miss her too - Sheba adopted and raised our male Upali from when he first came to us, and they had a particularly close bond.
"Sheba will be missed by all of us here."