Hoylake lifeboat museum given boost by building sale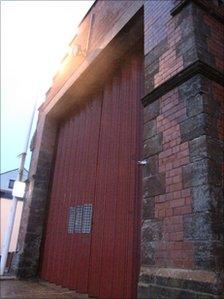 Plans to turn a former Wirral lifeboat station into a museum have moved closer to being realised after campaigners acquired the building.
The old Hoylake lifeboat station, owned by Peel Holdings, was recently sold to a local businessman who will now lease the building to the group.
The Victorian station closed in 2008 when the Hoylake lifeboat moved to a new building nearby.
Centrepiece of the planned museum will be the 1901 Hilbre Island lifeboat.
John Parr, from Caldy, has been leading the campaign to create a lifeboat museum in Caldy.
"Local financiers have come along and are buying the station on behalf of the community," he told BBC Radio Merseyside.
"There will be a long-term 'not for profit' lease put in place to enable us to operate as a museum."
The Hoylake lifeboat, one of the oldest in the country, was founded by the Mersey Docks and Harbour Board in 1803.
The station received nine gallantry awards during its existence and nine crew members lost their lives in incidents at sea.
The new Hoylake lifeboat station opened in November 2008 following a fundraising campaign which was backed by former local resident and James Bond star Daniel Craig.
The museum will include the 1970's Hoylake lifeboat Thomas Corbett, first launched as the Ramsey lifeboat in 1948.
Both the Thomas Corbett and the 1901 Hilbre Boat are listed on the National Register of Historic Vessels.
John Parr says he is now working on a sustainable business plan for the museum.
"Key to the project will be some form of catering facility within the museum, that will bring a double benefit for Hoylake," he said.
"We would rather not charge [for entrance]. We would rather go by donations which is in the the spirit of the lifeboat institution which we're celebrating."
Related Internet Links
The BBC is not responsible for the content of external sites.