Plea to Liverpool footballers to help financial crisis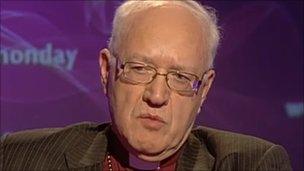 The former Archbishop of Canterbury has said Liverpool's bankers and footballers should help Liverpool get through its financial crisis.
Liverpool City Council needs to save £141m - and faces cutting 1,500 jobs - before 2013 because of government spending cuts.
Lord Carey, head of the Church of England from 1991 to 2002, said high earners should do more to help.
"I believe we can all make a contribution," he said.
Speaking on BBC One's This Week, Lord Carey said: "It is so vital that we have got to tap into the generosity of people in this country to create communities up and down the land, and so renew, rejuvenate our structures in this way."
He later added: "I want to say to the bankers, what are you going to do? Maybe your bonuses, you could freeze your bonuses and pour them into our communities.
"I wouldn't want to stop at the bankers - our rich footballers too, what are Liverpool's footballers going to do?
"They are paid so much. I believe we can all make a contribution."
Liverpool City Council Leader Joe Anderson said many footballers already did a lot to help local charities.
He said what was needed was a fairer tax system.
"We're not a charitable case, we are asking for fairness, and I think the tax system should be made tougher and simpler to tax the rich more.
"The greedy bankers, no-one's talking about that here.
"We've got tax loopholes left right and centre that people can actually avoid paying tax.
"If we got all the tax that's being avoided, we'd have near enough the amount we need to pay the debt off."
Lord Carey made his comments on This Week which was broadcast on BBC One at 2335 on Thursday.
Related Internet Links
The BBC is not responsible for the content of external sites.