Police officers cleared over 'punching' stab victim in Liverpool park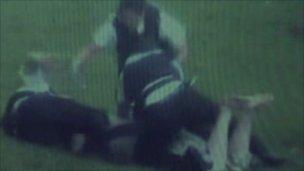 Three police officers who were captured on CCTV apparently punching a man who had been stabbed in a Liverpool park have been cleared of any wrong-doing.
The officers were trying to treat Darren Grace, 31, who they found injured in Stanley Park last August.
Footage showed them restrain him when he became violent.
An investigation by Merseyside Police's Professional Standards Department ruled the officers acted "lawfully and proportionately in self-defence."
Police were called to reports a man had been stabbed on Butterfield Street in Anfield at 0745 BST on 1 August 2010.
Their inquiries led them to Stanley Park, where they found Mr Grace with head injuries.
CCTV images captured on council cameras showed him being pinned to the ground and punched in the face.
Ch Supt Jon Ward, area commander for North Liverpool, said the officers did what they were trained to do.
"I understand that members of the public watching the CCTV footage may have been concerned by what they saw.
"Having viewed the whole CCTV tape and taken witness accounts it is clear that the officers approached Mr Grace with the sole intention of administering first aid.
"However, Mr Grace became violent and assaulted the officers by repeatedly pinching and biting their legs, including the upper inner thigh of a male officer, while officers were trying to administer first aid.
"The officers used reasonable force to prevent Mr Grace from further injuring them and himself.
"Mr Grace, to this day, cannot recall his actions that morning."
He added: "Officers are accountable in law for their actions. At the conclusion of the investigation, the Crown Prosecution Service (CPS) decided the officers had acted lawfully and proportionately in self-defence."
A spokesman for the CPS said: "A senior lawyer from CPS Lancashire fully reviewed all the evidence, including the CCTV footage and accounts from witnesses such as the paramedics who first attended and the staff at the hospital Mr Grace was taken to, as well as the accounts given by the police officers in interview during the investigation.
"The prosecutor concluded, taking all factors in the case into account, the officers acted in the execution of their duty having considered the safety of Mr Grace to be paramount."
She added: "One of the officers, who is seen to strike Mr Grace, said that he acted in self defence as he was being pinched and then bitten by him on the inner thigh.
"The officer is entitled in law, as is any individual, to act in self defence and to use reasonable force to do so."
Related Internet Links
The BBC is not responsible for the content of external sites.