Merseyside councils' concerns over pothole funds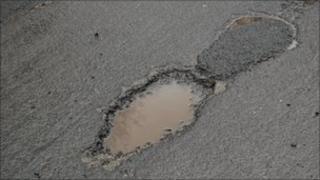 Two Merseyside councils have said they will have difficulty paying for pothole repairs, BBC research has discovered.
Halton and Knowsley, along with neighbouring Warrington, said their roads had been badly hit by two recent severe winters.
The councils were responding to BBC Freedom of Information (FoI) requests.
Wirral Council, however, said earlier this month it was starting a £5m programme of repairs to its roads, pavements, bridges and streetlights.
It said the money would be spent on the reconstruction or resurfacing of the borough's roads as well as maintenance of roads and pavements.
Councillor Lesley Rennie, cabinet member for streetscene and transport services, said: "Making sure our roads and pavements are as safe as possible is one of the most important services we provide.
"Some roads need urgent attention after the recent damage from snow, ice and grit and we expect those to be repaired as soon as possible following this extra investment."
Knowsley Council said it was certain it would not have enough money to pay for pothole repairs.
In its FoI reply, it added: "The effects of the past two winters has placed a large burden on the councils' highways maintenance budget."
Highways officials at Warrington Council said they feared they would not be able to cope with the deterioration in road surfaces which was caused by severe weather earlier this winter.
It said in its response: "If, following the most recent bad winter, the roads continue to deteriorate at the rate they did during 2009 following the previous winter, it is likely that this overall budget will be insufficient."
The council added: "Central government support of £260,000 certainly helped deal with the problem in 2009, therefore if this funding were not made available in 2010 and the roads did continue to deteriorate, re-prioritising highway maintenance spend will become inevitable to keep the roads safe."
Warrington Borough Council said it had nearly doubled its spending on pothole repairs in the past year. During 2009-10 it spent £465,000 and £750,000 in 2010-11, although this year's spending has been supplemented by government money.
Dave Vasey, who is in charge of street maintenance at the authority, said his teams aimed to quickly fill any holes that were a safety risk. He added that they also aimed to treat some road surfaces before they deteriorated.
He said: "We want to ensure the town's highways are safe for all users and with the previous three winters being as cold as they were, these are challenging times.
"The main priority is to repair potholes where there is a safety risk, but also to treat road surfaces in a proactive and programmed way."
Liverpool City Council declined to answer the question, saying it was not obliged to by the law.
Sefton Council made no response.
Last week, the government said it would be putting aside £100m for councils to bid for if they felt they had been badly hit by potholes.