Teacher's 'traumatic' escape from Libya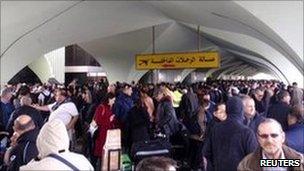 A teacher has been speaking of her "traumatic" ordeal in fleeing from Libya amid the violence surrounding the Libyan crisis.
Razia, who did not want to give her second name, said she became so afraid she knew she had to leave but it was only "luck" that meant she got out.
"On Sunday night all I could hear was helicopters and machine guns going off. But as soon as I heard the missiles I just shot up and thought I'm going to pack and go now," she said.
The teacher, from Stockport in Greater Manchester, said she called her colleagues and tried to persuade them to leave too.
When she tried to get a cab driver to take her to the airport none would as they were afraid of driving through the gunfire.
She finally got a lift for her and another colleague who decided to come with her.
But when they arrived at the airport their difficulties were not over.
"The airport was heaving with people," she said.
"I didn't think I'd get out. They'd closed the check-in and were saying the flights were full.
"A guy said he would check if there were any spare seats on a plane because I had an open return ticket - then he closed the check-in and ignored me and walked away.
"That's when my heart fell and I thought, that's it, I'm not going to go home."
Razia said she was so afraid that she was prepared to do whatever it took to get on a plane.
"I had to do the drama queen thing," she said.
"The only way to get some kind of action is to make your feelings known."
After the check-in desks closed she queued up with others desperate to get on a flight.
"I ended up behind a huge crowd of Libyan men on the Libyan airline counter and they were all shouting trying to get their flights changed.
"Then the manager saw me standing behind this huge crowd and asked me what the matter was. I said I'd been standing here for hours, waiting and waiting.
"He said, 'right- come with me now'. I ran through, bypassed the visa stamps and everything and got my luggage on [the plane].
"He managed to get me through security and he said, 'just go straight through - you can board'.
Razia said when she finally made it on to the plane, it was not as she expected.
"The plane was half empty," she said.
"One of my friends managed to get on a plane yesterday and even he said the same thing - that the flight was half full."
The teacher said she was relieved to be at home and out of the chaos.
Prime Minister David Cameron has now announced plans to get all British nationals out of Libya.
More than 300 people have been killed since the unrest began and it is thought hundreds of Britons are still stranded there as airports have now closed.
"A lot of my colleagues are still there and they can't get out, Razia said.
"It was just luck that I made it."
She added: "My heart is really broken. I feel sad that I'm not going to see the kids that I've been teaching all this time.
"You do form a bond with the kids and colleagues. I really loved my job there and Libya was a lovely place to live but at this stage I just don't feel like I could ever go back."
Related Internet Links
The BBC is not responsible for the content of external sites.