Vicar's drop-in centre at Liverpool shopping precinct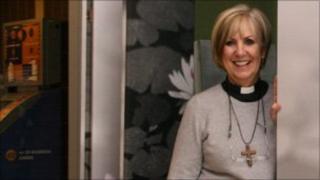 A Liverpool vicar has set up an unlikely drop-in centre at a local shopping precinct.
The Reverend Jane McKelvey works from a small booth in Belle Vale Shopping Centre one day a week. She says she is there for anyone who wants to talk.
The service was set up by St Mark Church, Childwall Valley, after a member of the public committed suicide by jumping from the roof of the centre.
It is open on Wednesday mornings between 1000 and 1200 GMT.
Debt worries
Ms McKelvey said she offered drop in sessions to shoppers who wanted to talk things through with someone.
"I do believe it's where God wants me to be.
"People come in worried about debt and housing and some people have been suicidal.
"I don't know whether I've helped them or not but for that moment in time I was just able to listen to them."
The drop in booth was set up after the suicide in 2010.
"It was over a year ago now when a person committed suicide by jumping off the top of the precinct," Ms McKelvey said.
"Having chatted with the management they were really upset at what had happened and didn't really know how to counsel their staff or how to help them.
"I asked if they had a small shop vacant that I could use but unfortunately it would have cost money, which as a church we don't have.
"The manager suggested that I use one of their little booths opposite the ladies toilets and I said yes right away."
Visitors are still getting used to seeing a vicar in a shopping centre.
"Some people look in and ask me if I do tarot cards because they don't know what I'm about.
"They've not seen anybody here before, especially a woman priest sitting in a booth.
"It's very small, I have folding screens across the entrance so when people come in to sit and have a chat and a coffee I close them over so it's private."