University of Liverpool to help train football police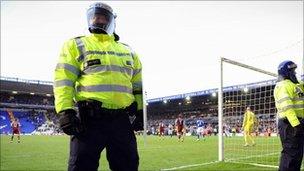 The University of Liverpool is to play a key role in training police in crowd safety and security at international football matches.
The university is part of the UK Football Policing Unit which has been awarded £1m funding from the European Commission and UEFA.
Experts will draw on their research into the psychology of football crowds.
About 250 senior officers from across Europe will get the training for the Fifa and Uefa matches.
The programme aims help the police formulate a clear strategy as to how to deal with crowds, gather information, assess risks to public safety and help officers work together better.
Dr Clifford Stott, a lecturer at the University of Liverpool, is chief scientific officer on a Uefa project to train football match commanders and stadium managers for the 2012 European Championships.
He said: "This programme utilises Liverpool's research expertise in crowd psychology and policing.
"It is unique in terms of quality, approach, participation and partnerships and includes the exchange of good practice among European police forces through interaction, theory and observation of police practice.
"This will serve to enhance safety and help reduce conflict in football," he added.
Dr Stott was involved in developing UK policy on public order policing following the G20 protests in London in 2009 and has assisted in preparations for major international football tournaments such as Euro 2004.
Partners in the project include Uefa, police forces and Ministries of Interiors responsible for public order.
Related Internet Links
The BBC is not responsible for the content of external sites.