Claustrophobic Wigan man in New Zealand earthquake rescue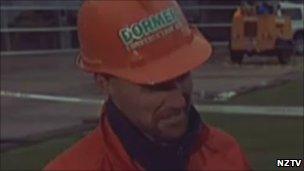 A builder from Wigan has described how he overcame his claustrophobia to help rescue six people from a building after the New Zealand earthquake.
Carl Stockton, 43, from Wigan, dug through rubble in the collapsed building to pull out survivors trapped in small gaps between broken concrete.
He had been working in Rangiora outside Christchurch when the earthquake struck and travelled in to help rescuers.
He said that he could not explain why he lost his fear of confined spaces.
Mr Stockton said: "For some reason [the claustrophobia] didn't affect me, but ask me to go in a hole now and it would be a different thing."
Explaining how he came to help those trapped under the rubble, he said: "I shot home and got my motorbike out of the garage and flew into Christchurch.
"I went to the fire chief and asked if he needed any help and I jumped on the ladder and got stuck into it.
"We had a rough idea where the trapped people were, so we broke through the concrete floor and made our way down level by level and slowly recovered them person by person.
"It was amazing to see survivors. They just grinned from ear to ear as they are just so happy to see you."
Mr Stockton believes he developed claustrophobia after being trapped in a sleeping bag as a child.
He spent 10 hours alongside fire crews and other volunteers smashing through the four-storey building's concrete roof and into the rubble below.
The 6.3 magnitude earthquake on Tuesday has claimed the lives of at least 98 people, including two Britons.
Another 226 people are still missing.
Related Internet Links
The BBC is not responsible for the content of external sites.