Liverpool to restrict street charity fundraising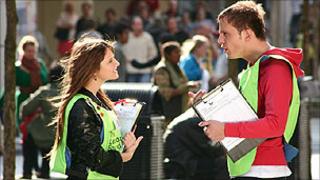 The work of street charity fundraisers - or so-called "chuggers" - is to be restricted in Liverpool city centre.
From April, charity agents who stop people in the street and ask for regular donations can only work on two designated sites, three times a week.
Chief executive of City Central, Ged Gibbons, said it was acting in response to complaints from the public.
The charities concerned, however, point out it is their job to raise funds for the people they are helping.
Mr Gibbons said: "Liverpool, like Manchester, like most major northern cities, are very generous cities and people will give willingly, they don't need to be brought under pressure to do so.
"We feel now that it has reached the point in Liverpool where people are almost being pestered."
Charity fundraisers can currently ask for donations every day of the week, but just on three sites in the city centre.
This will be reduced to just two sites, on Paradise Street and Bold Street, and only on Monday, Wednesdays and Fridays.
Mark Aldridge, chief executive of the Public Fundraising Regulatory Association, said: "Over a quarter of a million people a year are introduced to charity fundraising, to regular donating to charity by this method of fundraising every single year.
"That has been consistent for the last eight to 10 years."
Manchester restricted the practice of chugging - a term abbreviated from charity mugging - last week, confining the fundraisers to four sites in its centre and allowing them only to work on Mondays, Wednesdays and Fridays between 0900 and 1800.
In Liverpool, the number and frequency of charities will be regulated by Liverpool City Centre Management and City Central Bid.