Respite care service in Liverpool set to close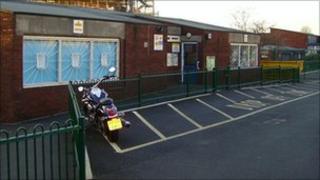 A secure care service for children with autism and severe learning difficulties in Liverpool is set to close, blaming a cut in funding from the council.
The Toy Library and Family Resource Centre, which provides respite for parents and carers, is due to close at the end of the month.
PSS, which runs the centre, said it was closing due to "increasing financial restrictions and government cuts".
Parents whose children use the centre have said they are devastated.
'Alternative services'
Sandra Wall, from Woolton, whose nine-year-old daughter goes to the centre twice a week, said the impact on her family would be "huge".
She said: "The centre is fantastic and the staff are brilliant."
"There's a great light sensory room and ball pool which the children love playing in.
"The children all go in smiling and go out smiling, they have a really good time there," she said.
"We know when we drop her off there that she is happy and she is safe and she is looked after, and all her needs are being met.
"The impact it will have on all of our lives, it will be a nightmare.
"It will have a huge impact in that there is no outside support, there is no way that my daughter can go to an after school club like other children her age that don't need the support that the Family Resource Centre offers."
A spokesman for PSS said: "Due to the increasing financial restrictions and government cuts, PSS will be closing its Family Resource Centre.
"We are working closely with our partners, Liverpool City Council, to ensure that all the children and families using the Family Resource Centre are signposted to appropriate alternative services."