Five Wirral care homes to close as part of £50m cuts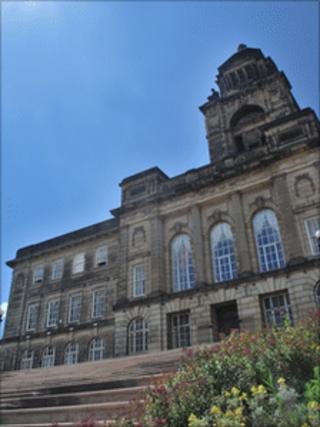 Five care homes are to be closed in Wirral, after councillors approved £50m worth of budget cuts.
Protesters demonstrating against the closures were removed from a six-hour long meeting to pass the budget at Wallasey Town Hall on Tuesday night.
The Conservative and Liberal Democrat led authority had already agreed to cut 1,100 jobs, from a total of 6,000.
However, previously under-threat Sure Start centres and libraries will remain open. Council tax has also been frozen.
Council leader Councillor Jeff Green said vulnerable people would still be supported, despite the care home closures.
"We have made sure that the vulnerable people are absolutely protected," he said.
"The services will be available. We will have to deliver them in different ways.
"The people and the services they require are absolutely going to be there for people."
'Smoke and mirrors'
He said the authority had carried out extensive consultation with residents about expected cuts after the election in May, as they anticipated savings would have to be made.
He said the council was also reducing its running cuts and its levels of senior management.
All job cuts will come from voluntary redundancies, he claimed.
Councillor Steve Foulkes, the leader of the opposition Labour group, said he was "very disappointed and very angry like many of the residents on the Wirral".
"There was a clear alternative there to give everybody more time to make this transition to a new form of service.
"This administration simply doesn't listen to what people are asking them to do."
He added: "They have gone for what can only be described as a smoke and mirrors budget which delays and delivers problems for the future."