Protest over Liverpool City Council budget cuts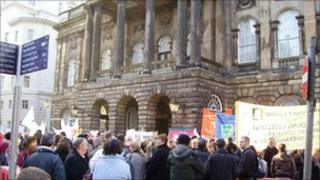 About 200 protesters gathered outside Liverpool town hall as councillors met to discuss cuts to its budget.
It came after a rift appeared in the agreement between Liverpool's Labour-led council and the Liberal Democrat and Green parties over the cuts.
The split emerged hours before the meeting to finalise how the council would find savings of £91m.
The council said the budget received cross-party support, but opposing groups now plan to table an amendment.
The amendment aims to restore £1m to the voluntary sector.
The proposed cuts revealed last month will affect children's services, leisure centres, libraries and voluntary groups.
Councillor Warren Bradley, leader of the Liberal Democrat group in Liverpool, said the group decided on Monday that certain things in the budget could be taken out to reduce closures to children's centres and funding cuts to voluntary and community sectors.
'Substantial savings'
He said: "We have identified areas that we believe that further savings could be made, back office savings.
"For instance, we've put in the budget stopping printing glossy magazines, which we believe could make a substantial saving that we could put towards the children's centres, towards free leisure passes for young people again, towards the voluntary and community sector.
"That's why tonight, with a heavy heart I have to say, that the Liberal Democrats will move an amendment to the main budget."
Council leader Joe Anderson has said everyone in the city would be affected by the cuts.
Aside from cuts to services, it is proposing is to cut half of its senior management posts, saving £4.5m.
It has also managed to reduce the predicted figure of 1,500 job losses to 1,200.
Funding for voluntary groups has been cut by £18m - almost 50% of the previous budget.
Mr Anderson led a march through Liverpool in February in a protest at the government spending cuts.
He urged people in the city to stage the protest after he delivered details of how the council would make savings.
He said he wanted to show how the city intended to fight the cuts together.