Liverpool City Council's £91m budget cuts passed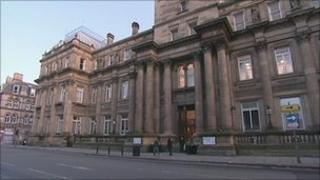 Councillors in Liverpool have formally approved budget cuts of £91m, despite the collapse of an agreement to set the city's first all-party budget.
The Lib Dems put forward an amendment to give an extra £1m to the voluntary sector and save four Sure Start centres but the original plans were passed.
They included shedding 1,200 jobs, reducing funding for libraries, leisure centres and the youth service.
Council leader Joe Anderson said the hard work was only just beginning.
'Areas unacceptable'
The savings represent 22% of its annual £400m budget but the city council has to find a further £50m of savings for 2012-13.
Mr Anderson said he was disappointed the Lib Dems decided to table an amendment in the meeting.
"I think everybody in the city thought we were having a united front."
But Councillor Warren Bradley, leader of the Lib Dem group, said electors had told his party that the voluntary sector and children's centres were being disproportionately hit.
He added: "There were areas in [the budget] that were just unacceptable.
"I cannot accept glossy magazines being paid for at the expense of children's centres in this city."
Senior posts gone
Funding for voluntary groups has been cut by £18m - almost 50% of the previous budget.
The children's care services's budget has been reduced by 1% and adult social care spending has been cut by 3%.
The libraries budget has been reduced by £458,000 in 2011/12, rising to £1.9m in 2012/13.
Half of the council's senior management posts have also been lost, saving £4.5m.
The budget for cultural events has been reduced by £1.8m, but the council has said many of the city's major events will go ahead.
But council tax has been frozen and more money is being invested in projects to stimulate economic growth in the city, the authority says.