Olympic Games vertical steam cloud for Wirral skyline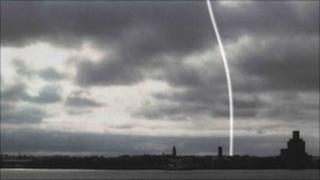 A large spinning column of cloud higher than Blackpool Tower will appear over the Wirral estuary as part of the 2012 Olympic Games celebrations.
Column is a public artwork created by artist Anthony McCall for the 2012 Cultural Olympiad.
The pillar of steam will rise above the Wirral waterfront on the Mersey, directly opposite Liverpool's World Heritage Site at the Pier Head.
On clear days the cloud will be visible from up to 60 miles away.
The £500,000 large column of corkscrewing steam, commissioned by Arts Council England, will be generated by using recycled heat.
It will first be seen on New Year's Eve 2011 and then remain throughout 2012.
'Cavernous estuary sky'
Twenty metres in diameter, the cloud's visibility and structure will be dependent upon weather conditions. Humidity and wind speed will change how the cloud looks.
Anthony McCall said he chose the site on the River Mersey for several reasons - "Wirral Waters' cavernous estuary sky, constantly shifting weather, and its available docks already makes it a compelling location for Column," he said.
"The fact that Merseyside also stands as a focal point for the whole North West, makes it absolutely ideal."
The work is one of 12 public art commissions across the UK for the London 2012 Cultural Olympiad, it was chosen in October 2009 from a total of 172 regional entries.
Ruth Mackenzie, Director of the Cultural Olympiad says Column is a "towering idea" which is an example of "the heights to which the Cultural Olympiad can climb."
"Anthony McCall's work is in demand by museums and galleries across the world and we are delighted that he has come up with such an outstanding and dramatic concept for our programme," she said.
A six foot scale model of the Wirral column of steam can be seen at a showcase of Anthony McCall's work in the Vertical Works exhibition at the University of Westminster from 1 to 27 March, 2011.