Frank Cottrell Boyce launches new book on train journey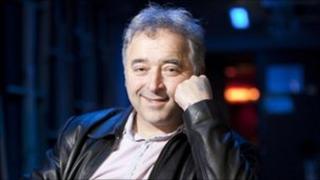 Award-winning author Frank Cottrell Boyce has launched his new book by reading to 25 children on a train journey from Liverpool to London.
50,000 copies of The Unforgotten Coat will be given away on Merseyside as part of the Our Read project.
The book was written specially for the scheme which encourages children to take up reading, and their parents to read to them.
Frank Cottrell Boyce won the 2003 Carnegie Medal for his book Millions.
The author wrote the first draft of The Unforgotten Coat on the Liverpool to London train.
"Reading is fantastically important and especially reading for pleasure," he said.
"People worry about books as they compete with video games and all that stuff.
"Everybody loves being read to and this is the day when I'm going to read to some people."
The Unforgotten Coat is written for young people aged 10 to 16 years old and is available at all Merseyside public libraries.
Libraries in other areas including Wigan, Blackpool, Bolton, Westminster and Middlesbrough are also joining Our Read.
Charlotte Weber from Liverpool-based The Reader Organisation says they are trying to encourage families to read.
"It is a fact, I think, that fewer children are getting read to at home nowadays," she said.
"It's seen as less of an important communal thing to do with your parents to read at home.
"In the same way that family meals and shared time at home is just less important as people have less time.
"There's something magical about being read to by your parents at home. I still remember being read Brian Jacques books by my dad in bed at night, and it's really about encouraging families to share reading together."
Our Read is the successor to Liverpool Reads, which started in 2003.
In 2009 Liverpool Reads distributed 20,000 copies of The Savage by David Almond.