Sefton Council approves its budget for the coming year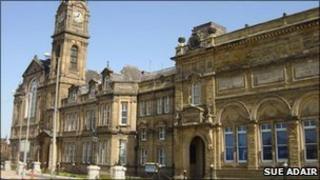 Councillors in Sefton have approved their budget for the coming year, which includes £44m worth of savings.
The council needs to save £68m over the next three years following cuts to its funding from central government.
The authority reduced the amount it will cut from children's services and youth centres, and promised to look at redesigning the whole service.
The final budget went through on Thursday evening, but without the support of the council's Labour group.
Labour group leader, Councillor Peter Dowd, said: "We'd made it clear as early as last June that we wanted to go to consultation.
"The Liberal Democrats and Tories chose not to go out into that consultation and the consequence was that there wasn't any indication from the public as to what they supported, what they didn't support.
"We have made that clear all along, we want to take the people of Sefton along with us, if they are not prepared to consult, then it is not for us to just go off, hairbrained, making cuts."
'Tough position'
Council leader, Lib Dem Tony Robertson said: "Labour have stood on the outside of this, taken no part in it and just chucked bricks at everybody who has tried to resolve the situation.
"I don't think Mr Dowd's position is in any way credible.
"Clearly the council is in a tough position, we have got a huge amount of work to do and of course we have to find more savings as well.
"Our three party consensus on Sefton Council is very much shattered and may well be at an end, we will see.
"I wanted to get everybody on board and for the common good but it didn't prove to be possible, so I just had to get on with things."
The council agreed to carry out a review of the borough's Sure Start centres and hold off from closing seven youth centres, but said cuts would still need to be made in those areas.
Mr Robertson said: "Savings will have to be made. What my objective would be, would be to try and retain the network of children's centres and to do that we will have to make savings.
"How we achieve that will depend on the outcome of the review.
"It would be dishonest to say to people that there won't be reductions in those services, but exactly how they come about, I am quite open minded about that."
The council, which is run by a coalition of Labour, Liberal Democrats and Conservatives, had decided it would consider a possible 5% pay cut for all staff, but that idea was dismissed last week.