Chester man returns home from Libyan oil field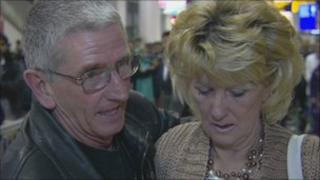 A man from Chester who was stranded at an oil field on the Libyan coast has returned home.
Jim Lockhart, 62, a design engineer from Elton, works for Libyan firm Sirte at a site between Tripoli and Benghazi.
He was based at Brega, which has since been attacked by troops loyal to Col Muammar Gaddafi.
The father-of-two was bussed to Benghazi on Saturday where he boarded HMS Cumberland, then flew to Manchester Airport on Thursday evening.
Speaking moments after being reunited with his wife Margaret at the airport, he said: "We're just going to spend some quality time together, and then just take stock and see what happens next.
"We'll have some time off now, we need it. She's been really, really worried."
Mr Lockhart is believed to have travelled with about 20 other Britons who live in the compound of the 500-strong company in Brega.
Before his return home, his family criticised the Foreign Office over the speed of its evacuation plans.
The Foreign Office said sorry for some of the delays, particularly around the provision of charter aircraft, and the distress of British nationals who have been unable to leave.