Merseyside youths detained for skateboarders' kidnap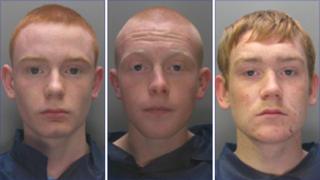 Three youths have been detained for kidnapping two 17-year-old boys, threatening to kill them and forcing them to perform sex acts on each other.
Michael Cattermole, 17, Lee Wade, 16, and Ian Tierney, 16, all from Liverpool, admitted subjecting their victims to an eight-hour ordeal.
At Liverpool Crown Court, they were all given indeterminate sentences, with minimum terms of four years.
The boys were skateboarding in Crosby and did not know their attackers.
A 25-year-old man, John Hughes, formerly of Kirkby, had pleaded guilty to assault, grievous bodily harm and kidnap for his part in the attack.
He was sentenced to four-and-a-half years in prison.
Det Insp David Keegan, of Merseyside Police, said the case was one of the most disturbing he had dealt with in his 30-year career.
The two victims were skateboarding outside Crosby Library last October when the trio threatened to stab them.
The gang marched them to the Leeds-Liverpool canal where they were dunked into the freezing water.
'Feral young men'
They were also robbed and subjected to what Judge Henry Globe said was a degrading and humiliating attack.
They were then driven at speed through Merseyside in a stolen car until about 0600 GMT the following day.
In a joint statement issued through Merseyside Police, the boys' families said: "It is difficult to understand the mindset and values of these offenders and it raises questions to us about a growing culture of feral young men in our city who roam the streets and resort to such mindless violence and cruelty simply for kicks.
"The lack of humanity, empathy and remorse is appalling. There is no excuse or mitigation for not knowing right from wrong."
They said the boys had not known their attackers but had simply been "in the wrong place at the wrong time".
"We would like to thank those members of the public who have come forward and assisted with the police enquiry. They have restored our faith in humanity," the families' statement added.
Cattermole, of Wavertree; Wade, also of Wavertree; and Tierney, of Speke, admitted charges including causing a person to engage in sexual activity without consent, kidnap, threats to kill, inflicting grievous bodily harm and false imprisonment.
Det Insp David Keegan said: "The four young people sentenced today subjected their two victims to a level of humiliation and violence that I will never be able to comprehend."
He said the ordeal had a "massive impact" on the boys and their families and praised them for coming forward.