Wirral tsunami observatory preservation bid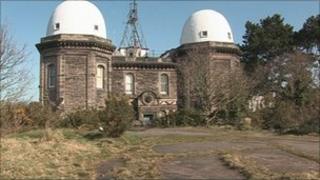 Campaigners hoping to preserve a former ground-breaking observatory in Merseyside are trying to raise £2m to save it from housing developers.
Bidston Observatory in Wirral was where early research into tsunamis was carried out by the Natural Environment Research Council.
The grade II-listed Victorian building is being marketed by property agents Mason Owen as potential housing.
Campaigners are considering asking the National Lottery for a grant to buy it.
'Ceiling stars'
Its original equipment is housed at Liverpool University, but the Bidston Preservation Trust wants to bring it back and turn the building overlooking Liverpool Bay into a museum.
The building ceased operating as an observatory in 2003 when research transferred to Liverpool University.
Peter Crawford of Bidston Preservation Trust said: "This is a trail-blazing site so it's very important that it should be kept for historical purposes.
"This place studied tsunamis and is the birthplace of all the warning mechanisms around the world.
"Seeing all the original artefacts in this setting would be perfect.
"The rooms are all set out with stars in the ceiling. It's absolutely fabulous."