St Helens' church school wins national award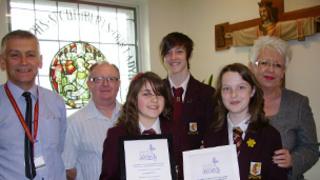 A school in St Helens has been named Church School of the Year 2011 in the first national Church School Awards.
St Cuthbert's Catholic Community College for Business and Enterprise in Sutton received the award at a ceremony in London on Thursday 24 March.
The Awards look at the involvement of pupils, staff and parents in the local community, environment, fundraising and global issues.
The school's rule is to 'Treat others as you would like to be treated'.
Teacher Mike Anderson, who was behind the school's bid, says the children are involved in a lot of voluntary work.
"We want to be Catholic, we want to follow in the footsteps of Jesus and reach out and help others," he told BBC Radio Merseyside.
"We're a community school as well because we feel that it is very important, not just to immerse ourselves in our community but also to serve it. And also look out into the wider world and the world wide body of Christ.
Outside of the curriculum students are actively involved in local groups including a Young Carers Group.
"We think that learning beyond the classroom is just as important as learning in the classroom," Mr Anderson continued.
"We want all our kids to live life in all its fullness and help to make the world a better place.
"It is amazing for the children to get recognition for all they have done."