Liverpool celebrates Irish music link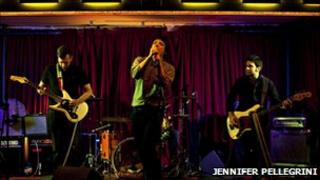 Merseyside musicians are taking part in a new festival in Cork which aims to celebrate links between new talent in the UK and Ireland.
The Terminal Convention festival looks at similarities between new music in the two countries and features Merseyside musicians The Sand Band, The Loud and Owls*.
The event, based around issues of migration, immigration and borders, is in the former Cork airport.
The festival runs until 27 March, 2011.
Music Director Craig Pennington said that the chosen bands were representative of a new wave of acts emerging from Liverpool.
"The three bands that we picked showcase a new wave of Liverpool acts on the scene and, in my opinion, are three of the most exciting new bands not only in Liverpool, but in the country," he told BBC Radio Merseyside.
"The opportunity to present them alongside the already established Will Sergeant gave a context to Liverpool's past as well.
"The Cork and Liverpool bands shared the same open mindedness and enthusiasm for the project.
"Histiorically, there is a relationship between Liverpool and Cork because of migrations and the Irish composition of what Liveprool is, culturally as well as musically."