Liverpool Pals memorial statue gets financial boost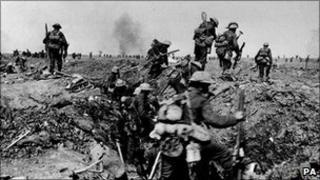 Plans to commemorate World War I soldiers, known as the Liverpool Pals, with a city centre statue have been given a financial boost.
The Duke of Westminster, Gerald Grosvenor, has pledged £10,000 to the Liverpool Pals Memorial Fund which has been matched by Liverpool City Council.
Liverpool Pals was the name given to volunteer battalions made up of men from local workplaces.
The first volunteers signed up in late August 1914.
It was Lord Derby who voiced the idea of recruiting friends and colleagues to serve together.
The recruits came from city firms including, The Cotton Association and The Cunard Line.
The fund hopes to have the memorial erected by 2014 to mark the 100th anniversary of the Pals leaving Liverpool.
'Ultimate Sacrifice'
The Liverpool battalions fought in some of the most well known battles of World War I, including the Somme, Passchendale and Arras.
The Duke said: "Almost a century has passed and it is only right and fitting that the civic pride these men carried along the Western Front is reciprocated by the city."
The project is expected to cost about £40,000 with the rest of the money coming from sponsorship and private donations.
The memorial will be sculpted out of stone with a picture of a soldier and a brief history of the Pals. It will also include the verse "These men of Liverpool gave the ultimate sacrifice by placing their lives on the line for King, Country and Liverpool."
The stone is planned to be sited at Liverpool Lime Street Station as this was the last place the troops saw before they left the city. At the end of the war out of 8,000 men only 1,200 returned to Liverpool and 800 to Manchester.
Fund Chairman Keith Page said: "I went to St. Georges Hall and I was absolutely disgusted - it was just a plaque on the wall."
He added: "There's no memorial to their sacrifice."
The Duke of Westminster, Major General Grosvenor has been a member of the Territorial Army since 1970.
The Liverpool Pals Memorial Fund will have an information stand at the BBC Radio Merseyside Big History Show on 23 and 24 April, 2011.