Life sentence for murder of medical student Muneeb Nasir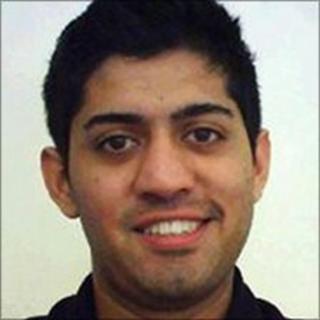 A man has been sentenced to life in prison for the "brutal, cold and merciless" murder of a University of Liverpool medical student.
Muneeb Nasir, 21, from Bristol, was stabbed by Colin Clarke, from Liverpool, during a bungled drugs robbery.
Liverpool Crown Court was told that Mr Nasir had been using and dealing the drug mephedrone.
Clarke, 37, was convicted of murder in March following a nine-week trial.
He was sentenced to a minimum of 26 years in prison at Liverpool Crown Court on Thursday.
The court heard that Clarke, of Hale Road, Speke, knifed Mr Nasir in July last year during an attempt to steal his 17oz (482g) stash.
Co-defendant Alan Johnson, 30, of Whitby Road, Woolton, Liverpool, was convicted of manslaughter and sentenced to 13 years in jail.
'Off balance'
Mark Hirst, 20, of North Barcombe Road, Childwall, was cleared of both murder and manslaughter but pleaded guilty to conspiracy to rob Mr Nasir, along with fellow gang member Lewis Cleator, 19, of Shipley Walk, Speke.
They were sentenced to seven years, six months and eight years respectively.
The court previously heard that several months before the fatal attack, Mr Nasir's life became "off-balance" and that he "drifted" into dealing and using mephedrone.
In a statement read to the court, Mr Nasir's mother Sarah Nasir said: "My husband and I have struggled to come to terms with the loss of our only son Muneeb.
"We adored our son and our world revolved around him. The persons responsible for the death of Muneeb have not only taken his life, they have shattered the lives of his mother, father and two sisters.
"Finally, I would like to say as a mother I will never be able to forgive these men, especially in the way that Muneeb's life was taken. They are cowards."
The statement concluded: "Again and again my heart cries out, how dare you touch my boy. This murder was brutal, cold, calculated merciless and inhumane. May Muneeb's soul rest in peace."