Liverpool reveals spring waterfront festival programme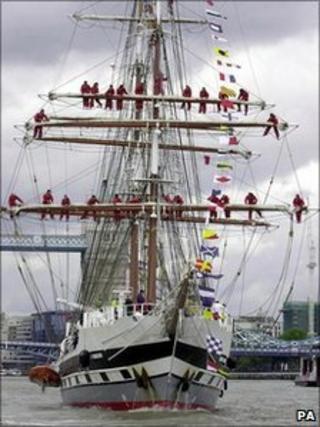 Sea shanties, tall ships and historic canal boats are among the highlights revealed by Liverpool City Council for a free 10-day riverside festival.
Spring on the Waterfront will take place from 29 April to 8 May.
It will also include a live screening of the Royal Wedding on a large screen at Liverpool ONE.
The festival takes place over the period that the cancelled Liverpool Boat Show would have covered.
Wedding salute
Shanty festival performers will play on a floating stage in Salthouse Dock where local acts will be joined by musicians from the USA and Europe.
Among the tall ships visiting the river is STA Stavros S Niarchos, the first new tall ship built in Britain in 12 years.
Other tall ships taking part are Astrid, Pelican of London and Oosterschelde. All will be open for visitors to board.
Salthouse Dock will be taken over by a flotilla of canal boats that will perform a Royal Wedding salute at 11.30 BST on 29 April.
Two regattas featuring yachts from across the North West will take place on the Mersey while a food and drink festival will be held at Liverpool's Pier Head.
Liverpool Watersports Centre will be holding free taster sessions in dinghy sailing, windsurfing, wakeboarding, kayaking, canoeing and paddleboards.
Liverpool City Council's Head of Events, Judith Feather said: "Spring on the Waterfront is set to be a fantastic event and it's a real credit to the maritime industry and other regional organisations who have worked with us at short notice to make it possible.
"The event is also a taster of what to expect in September when the hugely popular Mersey River Festival returns.
"Our iconic waterfront will be showcased at its very best and we're looking forward to thousands of people converging on the Pier Head for what will be a wonderful occasion."
The event was put together by Liverpool City Council and Liverpool Vision after Liverpool Boat Show was cancelled by organisers Marine Industry Events (MIE) due to the economic climate and poor take-up of exhibitors.