Liverpool's links to US civil war in spotlight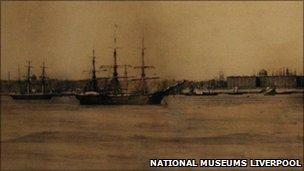 Liverpool's role in the American Civil War is the focus of a new exhibition trail at the Merseyside Maritime and International Slavery Museums.
The display marks the 150th anniversary of the start of the conflict between north and south America.
The war ended in the River Mersey in November 1865 when the last Confederate warship surrendered.
The trail includes photographs, warship models and business letters of Liverpool cotton merchants.
Britain was officially neutral in the civil war but Liverpool and much of North West England had political and financial connections with the slave-owning Confederacy through the cotton trade.
Dawn Littler, curator of archives, said: "The 150th anniversary seemed like a good time to bring items from the archive out on display.
"The records include the business records of Fraser, Trenholm & Co - Liverpool-based cotton merchants who were bankers to the Confederacy and records of shipbuilding and engineering firms who supplied the ships, arms and munitions."
The free exhibition runs at the Merseyside Maritime Museum and International Slavery Museum until 2015.
Related Internet Links
The BBC is not responsible for the content of external sites.