Liverpool Hope University lecturers on strike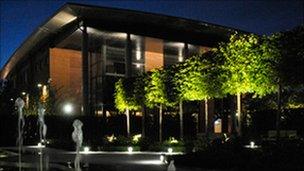 Lecturers at a Liverpool university are taking strike action in a row over job losses and the institution's response to funding cuts.
Lectures and classes at Liverpool Hope University are suspended on Friday, as members of the University and College Union (UCU) withdrew their labour.
UCU says at least 90 jobs are at risk at the university, which is making "hasty and deep cuts".
The university said the strike action was "regrettable" and "unnecessary".
The union said staff would be picketing outside the university's main entrance - the Eden Gate - from 0730 to 2330 BST.
UCU regional official Martyn Moss said: "UCU members here at Liverpool Hope have no faith in how the university is handling its funding problems and will do all it takes to defend their jobs and the education of their students.
"The fact that Liverpool Hope has been forced to cancel all lessons underlines the strength of feeling here against the cuts.
"It is a great shame that things have had to come to this.
"Had the university agreed to UCU's request to extend the window for potential industrial action, we could have focused on trying to resolve the dispute."
A spokesman for the university said "significant progress" had been made in reducing the number of compulsory redundancies.
"UCU's decision to take strike action when it is still involved in daily consultation at a local level and weekly consultation at an institutional level is as regrettable as it is unnecessary," he said.
"The university has made carefully considered plans in the light of the government's swingeing cuts to higher education funding.
"The university has previously stated its desire not to pass on government debt to graduate debt in the form of £9,000 fees and these actions are necessary to ensure that the university maintains its current academic and financial status in the future."
The union said the university had ignored the advice of arbitration service Acas, to allow more time during which staff could go on strike, to allow for more talks.
But the university said extending the time frame would not change the basis of the dispute - that the university cannot guarantee there will be no compulsory redundancies.
Related Internet Links
The BBC is not responsible for the content of external sites.