Merseyside acts at Tromso Sound City in Norway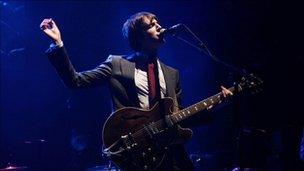 Merseyside musicians are preparing to take to the stage at Norway's Tromso Sound City festival.
Miles Kane and Wave Machines will travel to the northern Norwegian city for the two day festival.
A collaboration with Liverpool Sound City, the groups have been booked because of Norway's passion for electronic music and their success in the UK.
Tromso Sound City 2011 takes place on 15 and 16 April, 2011.
Will Sergeant and The Whip are amongst the UK acts also playing the festival with the remainder of the bands coming from Norway and Scandinavia.
"The artists we are taking over act as the honey pot for all of the emerging artists that are playing from Norway and Scandinavia," organiser Dave Pichilingi told BBC Radio Merseyside.
"Tromso Sound City gives acts a chance to show people from the music industry what they do.
"We'll be bringing some of the rising stars of Tromso over to Liverpool Sound City next month."
Tim Bruzon, frontman of Wave Machines said that the group were looking forward to what will be their first show of the year.
"Liverpool Sound City is great but it's on our doorstep.
"International flights make everything more exciting", he told BBC Radio Merseyside.
Dave Pichilingi says the Norway festival is similar to Liverpool Sound City which celebrates both emerging bands and already established artists.
"Miles Kane is definitely an ascending artist at the moment. We gave him his first show in America and he will be playing at Liverpool Sound City 2011 too.
"Waves Machines and The Whip are popular both here and in Norway because of their electronic sounds."
"Our corner of the UK has been responsible for some of the greatest talent in the UK and so we have the reputation and credibility to put on a festival like this.
"Tromso shares this bolshie attitude. They wanted to do something that was theirs, and shout out from the hilltops about how great Tromso's music scene is too."
Related Internet Links
The BBC is not responsible for the content of external sites.